Главная » 2008 » July » 31
---
France have dominated both NC and STC, with winning NC all three editions and webone + trya have won one time each in STC. 31august/1st september are the dates everyone have been waiting for - NC and STC are back!

The league-sites will be up by this week, so it wont be long till the registrations will open.

Basically, we will use the same rules, however there are some new things people might want to check out:

-

Multilaps

have been removed, due to a large upset over multilaps in last edition. Instead of a multilap, we'll use three normal laps that are around 55-1.08secs long.

- If you want to submit a map, do it through my e-mail adresse(bergmann_fredrik@yahoo.no).

- Players can change teams during groupstage, but only once! It is not allowed to change teams during playoffs.

- In playoffs, each team will choose their "home-map", while the last map will be the decider. Example: Dignitas choose map A, webone choose map B, map C will be the decider.

- Since there is no multilap anymore, all maps will be driven with the poinlimit of 7.
Welcome to the second season of international skill team cup - istc2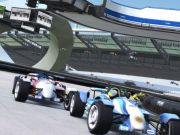 12thAugust is a CupStart . First Mappack be released on 7 th August . Division will be ready a day before
Current Chamoions -> InterRacers
We have still 2 free places in tournament ,so you can post in GB or write me ICQ
325463772 , thx PRM ^)
Статистика
---
Online: 1
Guests: 1
WOS: 0